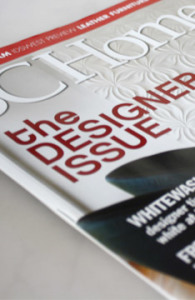 White is classic, yet strikingly modern. How can you achieve that beautiful, gallery inspired space with crisp white walls without looking stark or sterile?
BC Home to the rescue!
Our principal, Ivan Meade, has been interviewed for the latest issue of BC Home's article "Fresh Whites" (page 109) alongside very talented fellow designers Patricia Gray and Valerie Edwards. You are sure to find the answers to any of your white questions within the pages of this story.
As always, we were very pleased to have our input featured in this great magazine. The text by Catherine Tse was a pleasure to read and the layout and photography is stunning as always.
For photographs of projects where we have used white in our designs, check out our Interior Design portfolio and take a look at Spring Bay and Persimmon Drive in particular.