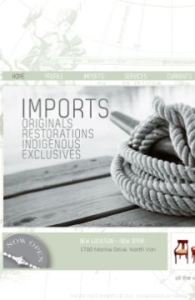 We were thrilled to work with Michelle Annette Kelava-Juszczyk on her unique business, Pacific Post Imports. A pop-up shop which brings in one-of-a-kind finds from all over the world, curated by Michelle herself who has been in the design industry for over 20 years. We'll be adding Pacific Post's print work soon, but in the meantime you can satiate your curiosity by checking out the website for yourself at: www.pacificpostimports.com!
In the end, we think the project as a whole reflects Pacific Post beautifully. A serene West-Coast inspired colour palette with an abundance of nautical references to help visitors imagine the travels these pieces have been on. From a technical perspective, this site works great for the business as well. It is CMS, meaning Michelle is able to update and manage the site herself with ease – very important in a business like hers since inventory can change daily.
Check out Pacific Post today, we can't wait to see where they pop up next!