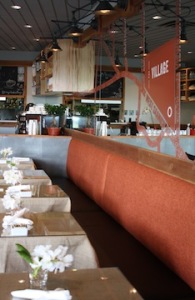 We love working with our repeat clients at The Village Restaurant, and were thrilled to take on Village #2 in Royal Oak!
It was a wonderful opportunity for us to be able to reinterpret our design elements from the Estevan location to suit this new space's needs and introduce the new secondary logo.
We re-used many materials and fixtures for consistency, but also added in new unique features, such as the private dining and waiting spaces and lots of mirror to reflect as much light as possible. We were also able to introduce banquette style-seating to maximize the floor space.
Stay tuned to see this new village added to our portfolio with a full gallery in both the interiors and graphics sections of our website!
Remember to check out the restaurant interior design project and what did for their branding and graphics design.