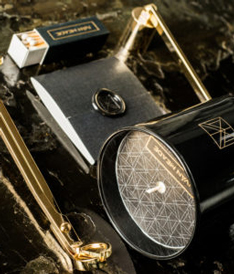 "Find luxury in what you light every day"
With the introduction of a new line of Luxury Candles named APAPACHO, Ivan Meade expands his personal narrative in design to encompass the complexity of light and scent to delight all your senses. "Apapacho" is a traditional Nahuatl word roughly translated as an "embrace of the soul". The two variations express the multiple ways of expressing this sensibility.
APAPACHO CE soothes the soul; uniting top notes of vetiver and white amber into a heartfelt hug, it is perfect for intimate gatherings and reflective contemplation. On the other hand, APAPACHO OME lightens the soul through an exceptional blend of rosewood and citrus, kindling emotional renewal and stimulating conversation.
Launching on Valentines Day, these candles are the perfect romantic gift! Visit ivanmeade.com to learn more, or see the press release here on Modern Home Victoria.