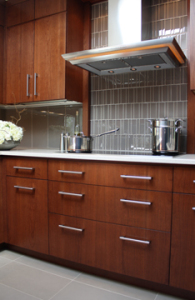 We are thrilled to present the completed kitchen from our Persimmon Drive project. The image to your left is just a teaser – in fact, we have just uploaded a whole new gallery for this project in our Interior Design Portfolio for your viewing pleasure.
As you will read about in the gallery, this project was completed over several years – room by room – until this couple (some of our favourite repeat clients) had their finished dream home.
The timeless lines and warm yet contemporary colour palette was introduced throughout the entire home with sleek, walnut millwork and sparkling polished chrome fixtures to create a contemporary but homey ambiance. We didn't want the tone-on-tone palette to read as dull, so interest was created with custom tile patterns, eye-catching wallpapers and fabrics featuring subtle changes in texture. Please visit the gallery to see the complete project.