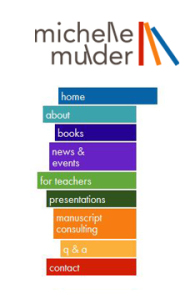 We were so happy to get the call from a dear friend of Meade Design Group, Mrs. Michelle Mulder, when she wanted a new look for her website.
We knew Michelle's image would have to be fun and kid friendly (she is a children's author), but maintain a professional look for the teachers and parents that would be using her website for resource materials, or for the professional clients who hire Michelle for manuscript consulting and copy writing.
We created a playful, abstracted version of a bookshelf in primary colours inspired by the series of vertical lettering in her name and continued the concept for the website's menu.
We've posted her logo in our web and identity portfolios, but definitely check her website out for yourself at: http://www.michellemulder.com/