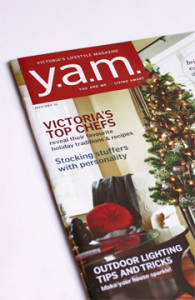 Looking for some tips and tricks to spruce up your usual holiday decor? Check out our latest appearance in Y.A.M Magazine!
Our principal, Ivan Meade has included some of his personal favourite ideas for making your home feel extra festive this time of year, including techniques he has used in his own home, and here at our studio. The article also features great suggestions from other local design industry professionals which made for a diverse selection of options and styles!
This issue is out now, so be sure to pick one up for yourself today! – your home will thank you for bringing new life to your Christmas tree, your mantle, your pillows, your entry, your table, and… well, you get the picture!