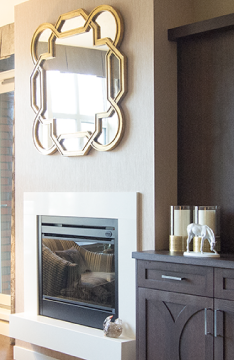 We are very excited to share one of our recently completed interior design projects,  for clients with traditional design tastes in a modern building. The clients were downsizing and moving from out-of-province to Victoria BC. The result: a transitional design scheme (including custom millwork) in a neutral palette with steel-blue and golden accents.
Please check it out in our portfolio here.
Here's what the clients had to say about working with Meade Design Group:
"After moving from a large house and selling all our furniture, the prospect of how to make our small condo, with its challenging room configurations an elegant but comfortable new home seemed a daunting task. Fortunately for us, a friend recommended Meade Design and we decided to start with the living/dining room and an office. Working with Meade Design was a true pleasure and eye-opening experience as to how gifted, innovative interior designers conceptualize and put together living spaces. Any time there were setbacks (and, inevitably, on any project there are a few), Ivan and Echo went above and beyond expectations to rectify problems and keep things on track. We could not be happier with the end result. The office space is both beautiful and functional and the living/dining room is everything we hoped for and much more. We are so pleased with this project that we have embarked on a new one to design our bedroom. We can't wait to see the finished results!"
And neither can we! Stay tuned for more.