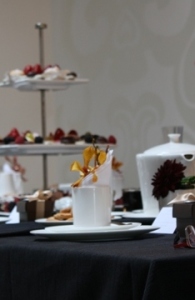 Meade Design Group was a little spoiled this fall, we were able to host the launch of Barbara Barry's latest fabric collection, 'Indochine' with a private gathering of clients. We were actually the first showing in Canada so we feel very special to have been given the opportunity!
Of course, we have to thank Barbara Barry for creating the line, but many thanks also need to go out to all of our guests in attendance, Rook & Rose for the flowers and a great big thanks for the support from the team at Kravet Canada: Brian Donovan and Paul Smith, and of course our rep, Brenda Marks – we couldn't have done it without her fabulous presentation!
There was an abundance of treats and drinks to be had, including our signature cocktail for the event 'Indochampagne'. All in all, we'd say it was a great success! For more photos and information on the event, including our decor and signature cocktail recipe, check out our latest blog entry.