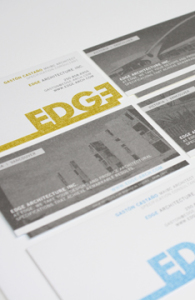 We cannot wait to share our most recent stationery and website package with you – Edge Architecture.
Founder of Edge Architecture Gaston Castaño [Maibc] came to Meade Design Group for an identity that would appeal to his design-conscious clientele. His company mantra? "The name EDGE recognizes the firm's goal to provide a competitive edge to design practices that want to add value to their project deliverables".
We went for it, with a bold lettering style and bleed that is most certainly eye-catching. The stationery was printed in four colours to maximize the punchiness of the Edge brand, and even features a die-cut to enhance the unique feature of the offset lettering within the logo. For more details go here.
To learn more about Gaston Castaño and his firm, please check out his website at: http://edge-arch.com/