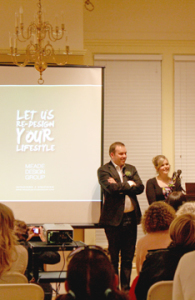 Our presentation at the Art Gallery of Greater Victoria's 'Let's Talk Design' Series was on Friday, and we are so pleased to report that it was a hit! We gave our lecture on 'What Luxury Means Today' to a sold-out crowd.
Thank you so much to all of the attendees, the Art Gallery, and of course our sponsors, Y.A.M. Magazine and Gabriel Ross, for your support of this event!
Our topic touched on everyday indulgences, where to invest in your home, pampering yourself, sustainability, and embracing your true style – make everything you do your own and live it with pride!
Thank you again for all of your support!